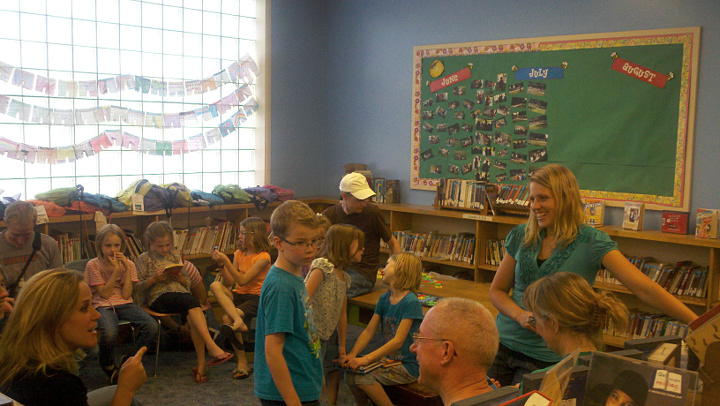 Authors, at least all that I know, love libraries. They were often our second homes growing up. It's a place where we now take our kids. We discover new books, new characters, and new worlds that make us laugh, cry, jump, yearn, smile, scream, think, love, and dream.
So when a library invites you to speak, it is an honor. It's a way of paying back.
It's also a way for more readers to discover you. It's a way for your book to show up on those hallowed shelves. And it's a way for the librarians to become familiar with you and your book, which is very important. You see, you want them to recommend your book and to showcase it where everyone can see it. And they usually only do that for books they know people will find interesting.
Here are some tips I've learned from speaking at libraries to make the event a success.
1. Don't Wait to Be Invited
You shouldn't wait for libraries to invite you. It's likely don't even know what you have to offer or that you are willing to share it. You should ask if you can come speak. Often we authors have a romantic view, most likely stemming from the movie Field of Dreams, that if we write it, somehow "they will come" without needing to do more on our part. This may be true with some authors, but they are typically well known!
Most libraries will be thrilled to have you speak, especially if you are a local author. Libraries tend to be very supportive of local authors. From their viewpoint, having a published author guest speak is a rare treat and is considered "news worthy."
2. Don't Forget About the Small Libraries
Speaking at large libraries can be nice in that more visitors = greater discoverability. But when you are first starting out it may be easier to get a speaking gig at a smaller library than a larger one. Small libraries often lack funding and the number of patrons to attract authors, so when an author asks them to speak, they are often eager to accept. Besides, it builds good karma, and it's a wonderful way to gain speaking experience and get comfortable speaking in front of an audience.
Speaking first at small libraries is a way to build credibility. It's also a way for other libraries to notice you. Remember, librarians can be a very close-knit bunch and they communicate regularity with neighboring librarians, so if you provide an impressive presentation, they will likely let others know.
You may not get paid at first if you are a brand new author or if the library doesn't have the funding, but I figure it's a great way to give to the community and in return, gain exposure as an author and for your book.
3. Schedule When the Many People Can Attend
Some libraries have strict schedules while others are more flexible. Libraries will often schedule your gig at a certain time and let their patrons know, or they may have a regular class, meeting, or program at which you can speak. That way there already is a built-in group scheduled to come. For example, a summer reading program may be a great option for you. My first library speaking gig was for a group of kids in a summer reading program. I spoke with an illustrator, then the kids wrote and illustrated their own little books.
The most important thing is to schedule a "high traffic" time when patrons are likely to already be there. It increases your odds that the people you invited will attend, and you can hopefully attract the curious guests, who didn't realize you were speaking, to sit in and listen.
4. Advertise Well.
People have to know you are speaking. Don't rely on the library alone to let enough people know. Announce it on Facebook, Twitter, Google+, and any other social media sites you have a presence on. Make several flashy posters and hang them around the community. Take out an ad in the newspaper; or better yet, see if they will write an article about you. Tell your family…at least you'll have someone show up :-).
Also, whenever possible try to get commitments from a handful of supporters to attend. The last thing you want is to set up a speaking gig where no one shows up.
When advertising, you want to be clear on the time, date, and location. Obvious. But something you might not consider is – What's in it for them? If you are an established author, then just having you visit your fans may be enough. If you are starting out and no one really knows you yet, ask yourself, "If I were in their shows what would entice me to make time in my busy schedule to come to this event?"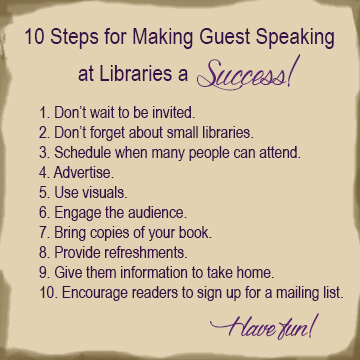 ———–
When it comes to the actual event, you want to leave an impression on the audience. You want them to remember you and your book. Here are some tips.
5. Use Visuals
By all means, use visuals! My story Born of Shadow is mostly set in Egypt. My presentations become more memorable and fun when I show pictures of the cool sites and artifacts of that fascinating area. Video clips are helpful. A great way to showcase these is in a PowerPoint presentation. I also have a collection of Egyptian music I use to set the tone. If you have items that people can (safely) hold, consider bringing these too. I am in the process of creating a mummy for my presentation. Other great artifacts to include would be a scarab, a picture or bust of Alexander the Great, archeology tools, etc. You could even take advantage of a chalkboard. It's important as an author to tie these visuals back to your story.
6. Engage the Audience
Make it fun. Make it memorable. Look them in the eyes when you talk. Smile. Walk around when you talk to help keep them focused on you. If you can make a connection with them, they are more likely to become ambassadors for you and your books. This grass roots approach can get your work noticed in new circles.
7. Bring Copies of Your Book
This is a simple suggestion but do remember to bring copies of your book. People like to thumb through it. For some reason, being able to hold the book makes it feel more real.
One more reason is it gives your hands something to hold when speaking – helpful if you get jitters speaking in front of groups.
8. A Cheap Enticement: Provide Refreshments
We have a saying among some members of my church that says, "We won't meet unless we can eat." LOL There is some truth behind the statement. It's been proven over and over again that by offering refreshments you'll have better attendance at most gatherings.
Your libary may already be providing treats, but if not, its simple to throw something together. You don't need anything fancy or expensive. Cookies, brownies, candy, whatever. I've found so far that most libraries are very accommodating of you bringing refreshments if they know a) you'll be careful and b) you'll share with them. 🙂
Besides, even if the presentation didn't go as well as you would have liked, at least you can end it on a positive note with cookies and punch.
Oh, and be sure you include "Free Refreshments" on your advertisements.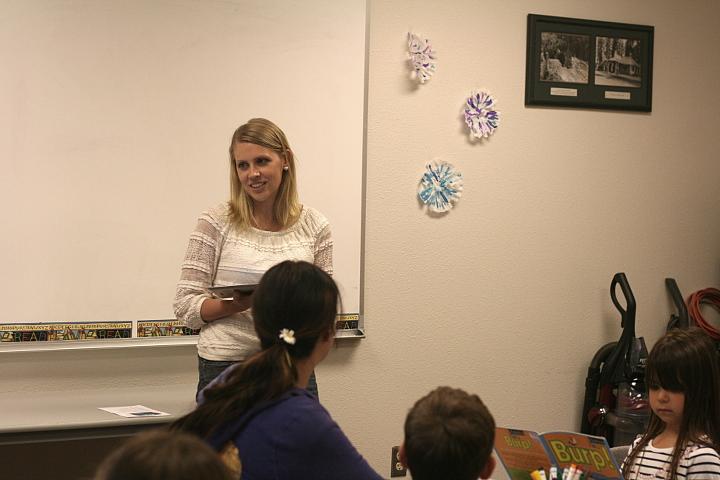 9. Give Them Something to Take Home
My last bit of advice is to have something the audience can take home. It can be as simple as a flyer with a screenshot of your book, or as cool as memorabilia of an important item in your story, or a magnet of a favorite quote from your book. You can have fun with this one. The point being, when they leave the library you want them to continue to remember you.
There are also some very cool psychological studies that show how humans are wired. In one of my favorite books on the subject, Influence: The Psychology of Persuasion, it explains how giving something helps persuade the receiver to want to give back. And we all hope that will be in the form of letting their friends know about  and this new "really cool book."  
10. Encourage those attending to sign up for your mailing list.
This is often overlooked, but is extremely important. While you have the group there interacting with you, they are often excited about your story and want to know more about it or when the next book will be available. The easy way to connect (and stay connected) is to have them sign up for your mailing list. Let's face it. While they might like you and be interested in buying your book, life gets busy and it's easy to forget. This helps you stay connected.
There you have it. Follow these steps and you'll be more likely to make your next speaking engagement a success. Be yourself. Come prepared. And by all means, have fun!
To the authors: What have you done to make guest speaking at libraries a success?
To the fans: If you have listened to an author, what did they do you liked?